Feature film D | 2010
The truck driver, Martin, is on the verge of being fired. On the delivery that is supposed to be his last chance to prove himself, a prostitute named Ramona asks him to take her with him. What he doesn't know is that she is on the run from her pimp, who is closer on their trail than they realize.
Transit tells the story of two people forced to stand up for themselves everyday in the highway world. What for others means mobility has become for them a prison. Just as Martin is chained to his semi-truck, Ramona is bound to her mobile home. With each other's help, might they find a way out of this wasteland?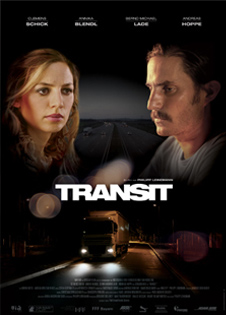 FESTIVALS
Filmfest Munich 2010
Internationales Filmfest Braunschweig 2010
Filmfestspiele Biberach 2010
Regensburger Filmfest 2010
Sehsüchte Filmfestival Potsdam 2011
Shanghai International Filmfestival 2011
---
AWARDS
Förderpreis Deutscher Film, Categorie Production, Munich 2011
Script and Director:
Philipp Leinemann
Cast:
Clemens Schick, Annika Blendl, Bernd Michael Lade, Andreas Hoppe, Jürgen Vogel, Christian Hoening, a.o.
---
Director of Photography:
Christian Stangassinger
Editors:
Max Fey, Philipp Leinemann
Music:
Christoph Zirngibl
Producers:
Benedikt Böllhoff, Max Frauenknecht, Khaled Kaissar, Balint Tolnay-Knefely
Genre:
Drama
Length | Material:
75 min. | 16mm
Year of Production:
2010
---
Production:
viaFilm, Kaissar Film
Coproduction:
HFF München
Supported by:
FFF Bayern