Feature film D | 2012
Martin is a poet, a quiet but tenacious dreamer, who has been working for years on his stage-play masterpiece, complete with castles in the air, flying pirates and a gutsy princess. The secret inspiration for the play's main character is Martin's good friend, Isabel, a spirited, young woman with a sharp tongue, whose struggle to stop the spread of genetically-manipulated seeds takes her all over the globe. Tomorrow Isabel is leaving for a three-year stay in drought-plagued Mali in the heart of Africa. At the check-in counter, of all places, Martin finally confesses his love—a confession that would have meant the world to Isabel some time ago, but that is now too late to change anything.
But then the flight is delayed for several hours. Isabel rushes back into the city to speak with Martin, but he is nowhere to be found. Precious hours are lost – is there enough time for the two of them to rethink all the decisions that have defined their lives thus far? But, how much time does that really require?
www.DreiStunden-derFilm.de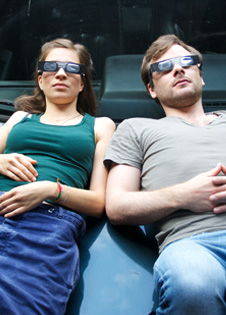 Festivals:
46th Hof International Film Festival 2012
Biberacher Film Festival 2012
Nomination in the Category Production for the Studio Hamburg Nachwuchspreis 2013
Script and Director:
Boris Kunz
Cast:
Nicholas Reinke, Claudia Eisinger, Peter Nitzsche, Lucy Wirth, Matthias Brenner, Doris Buchrucker, Dietrich Hollinderbäumer, Hartmut Schreier, Katharina Leonore Goebel, Christian Heiner Wolf, a.o.
Director of Photography:
Martin Niklas
---
Editor:
René Loos
Music:
Konstantin Ferstl,  Rosalie und Wanda
Producer:
Khaled Kaissar
Co-Producers:
Uli Aselmann, Andreas Ch. Tönnessen
Executive Producer:
Alexander Krötsch
Genre:
Romantic Comedy
Length | Material:
100 min. | HD
Year of Production:
2012
Production:
Kaissar Film
---
In coproduction with:
diefilm, Bayerischer Rundfunk & HFF München
Broadcaster:
Dr. Claudia Gladziejewski
Supported by:
FFF Bayern
Worldsale:
ARRI Worldsales