Historical drama D | 2010
The educated, physician's daughter, Katharina, leaves her life of privilege and her parents behind in Bavaria to join her young, South Tyrolean husband, Franz, on his parent's mountain farmstead. There she lives through the year of the South Tyrolean popular uprising in all its severity.  While Franz and his brother are taken up by the enthusiasm of Andreas Hofer and the struggle for freedom, entering a hopeless war against France and Bavaria, Katharina fights for the recognition of the remaining mountain people, tying her fate inextricably to the victories and defeats of the South Tyrolean folk heroes.
This ambitious, historical film combines a fictional family drama with historical events to tell the story of the South Tyrolean popular uprising of 1809 from a unique perspective.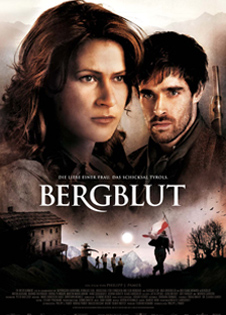 FESTIVALS
Bozner Filmtage 2010
Shanghai International Filmfestival 2010
Filmfest Munich 2010
Film Festival della Lessinia 2010
Mostra Int. de Cinema Sao Paulo 2011
Cleveland International Filmfestival 2011
---
AWARDS
BR Audience Award (Munich)
Audience Choice Award & Prize of the Province Verona (Lessinia)
Script and Director:
Philipp J. Pamer
Cast:
Inga Birkenfeld, Wolfgang Menardi, Anton Algrang, Verena Plangger, Götz Burger, Jutta Speidel, Gerd Anthoff, Hans Stadlbauer, Eisi Gulp, Mathieu Carrière, a.o.
Director of Photography:
Namche Okon
---
Editor:
Katrin Reichwald
Music:
Sami Hammi
Producers:
Florian Reimann, Khaled Kaissar
Genre:
Historical drama
Length | Material:
120 min. | 35mm
Year of Production:
2010
Production:
FR Entertainment
---
In coproduction with:
Kaissar Film, Remulus Film, Bayerischer Rundfunk & HFF München
Broadcaster:
Natalie Lambsdorff
Distributor:
Summiteer Films, EMW Film
Supported by:
FFF Bayern