Short film D | 2010
Daniel said once he would rather have his ashes spread over lake Chiemsee than end up in the pompous, family crypt. When Daniel dies unexpectedly in an accident, his girlfriend, Sophia, plans to fulfill his wish. But Daniel's parents will not hear of it, so 19-year-old Sophia takes matters into her own hands and steals Daniel's ashes from the urn shortly before they are to be interred. Unfortunately, her clever plan threatens to fail at the first traffic control point – and even sparks a massive marital conflict between her own parents.
A tragicomedy about dealing with death, biological tobacco, chaotic family relationships and the question, where can you get the best fish dinner at Chiemsee.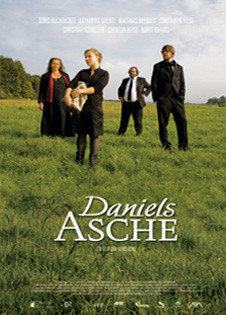 FESTIVALS
Hofer Filmtage 2010
Biberacher Filmfestspiele 2010
International Festival of Filmschools Munich 2010
Rencontres Henri Langlois Poitiers 2010
Landshuter Kurzfilmfest 2011
Kino Knock Out Festival Altkirch 2011
Liftree Filmfestival Colorado 2011
New York No Limits Film Festival 2011
Manhattan Film Festival 2011
Shorts at Moonlight 2011
Emmentaler Filmtage 2011
Filmfestival Münster 2011
FIKE Kurzfilmfestival Portugal 2011
Comedy Cluj Romania 2011
European Spiritual Film Festival Paris 2012
---
AWARDS
Panther Preis (Best German Film Production, Munich)
Prix Interculturel (For Fostering Intercultural Dialogue, Munich)
Screenplay (Poitiers)
Audience Award (Landshut)
Audience Choice Award & Doing Life Award (Lifetree Filmfestival)
2nd Place Skoda Short Film Prize (Shorts at Moonlight)
Prize of the Student Jury (Münster)
Best Euorpean Short Film (FIKE)
 Honorable Mention Don Quixote Award (FIKE)
Best Student Film (Cluj)
Best Spiritual Short Film (ESFF)
Script and Director:
Boris Kunz
Cast:
Katharina Leonore Goebel, Matthias Brenner, Doris Buchrucher, Constantin Rieß, Christian Schneller, Cornelia Heyse, Horst Krauss, Andreas Heinzel, a.o.
---
Director of Photography:
Martin Niklas
Editor:
René Loos
Music:
Konstantin Ferstl
Producers:
Khaled Kaissar, Baltin Tolnay-Knefely, Magdalena Rathmann
Genre:
Tragicomedy
Length | Material:
31 min. | HD
Year of Production:
2010
---
Production:
Kaissar Film
In coproduction with:
Bayerischer Rundfunk, HFF Munich
Broadcaster:
Dr. Claudia Gladziejewski