Short film D | 2009
One last meeting at the end of a relationship: What scores remain to be settled? What needs be said? What is better left unsaid? What can be hoped for? It is always painful, but sometimes healing.
This short, melancholically mirthful chamber play for two actors and a toaster was made in 72 hours and submitted as part of the international 4K-Challenge in Los Angeles, where it took 1st prize.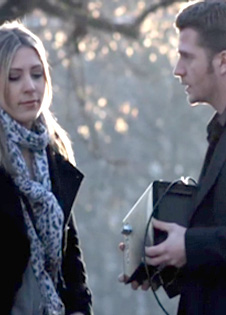 AWARDS
1st Place/Judges Choice Award 4K Challenge in Los Angeles, 02/2009.
Director:
Bernd Katzmarczyk
Script:
Tim Krause
Cast:
Peter Nitzsche, Maria Leonie Bach
Producer:
Khaled Kaissar
Genre:
Short film
Length | Material:
6 min. | HD
Year of Production:
2009
Production:
Kaissar Film